Avalanche Alum Kealia Ohai selected #2 overall in the NWSL draft
Congrats go out to Kealia on her selection to the Houston Dash of the NWSL. Kealia continues to set the example of what is possible. She consistently raises the bar and we are very proud to see her continued success.  We're still cheering you on Kealia!
More Stories…
…………
SB*Nation
Houston Dash Take Ohai With Second Pick of College Draft
By Alicia Tolar  @dynamoreTNT on Jan 17 2014, 9:04a 3
US PRESSWIRE
Tar Heel's forward is the Dash's first draft pick. Ever.
Forward Kealia Ohai was taken as the Dash's first draft pick during Friday's NWSL College Draft.
A native of Utah she scored 126 goals while in high school. She played all four years of collegiate soccer at the University of North Carolina. She helped lead UNC to a National Championship scoring the goal that got the team past Stanford and into the finals. She scored 11 goals starting every game this season.
Ohai also has experience at the international youth level as part of the team that won the CONCACAF U-20 Women's Championship and qualified for the 2012 U-20 Women's World Cup. She played in four qualifying matches scoring 1 goal and 2 assists
She has the pace and high work rate that Coach Waldrum prefers in his players and will make her valuable as a presence up top for the Houston Dash.
And she does all of it without vision in her right eye. While vision loss in one eye can cause a loss of depth perception Ohai has found a way to adapt and overcome the problem.
Ohai is the younger sister of Megan Cushing a former soccer player who is married to Brian Cushing linebacker for the Houston Texans. Hopefully, some of the Texans players will make it out to Dash home matches and show their support for the women's club and women's soccer!
……….
The Equalizer
Kealia Ohai lands in Houston, where family awaits
JEFF KASSOUF JANUARY 17, 2014 10
Kealia Ohai wil play for the Houston Dash after being selected second overall. (Photo by Meg Linehan for The Equalizer)
PHILADELPHIA — When Kealia Ohai's senior season at North Carolina began, the Houston Dash didn't exist.
The Dash weren't even reality when the NCAA season ended in early August, but on Dec. 12, the National Women's Soccer League added its ninth team and quickly turned an improbable scenario into reality.
Ohai's sister, Megan, lives in Houston and is married to Houston Texans linebacker Brian Cushing. Megan played collegiately at USC from 2007-10.
"It's funny, this August me and my sister joked about trying to start a team in Houston, because I love Houston so much," Ohai said. "Then we heard the news that there might be a team and everyday it got a little bit more serious. Then there was the team, then they had the No. 2 pick and it was the most incredible – the craziest thing that has ever happened to me. I'm so excited."
Ohai was selected second overall by the Dash in the 2014 NWSL College Draft. She carries an international-caliber name with her to Houston as the scorer of the game-winning goal in the 2012 U-20 Women's World Cup final, which she followed up three months later with the game-winner in the NCAA title game.
This season with UNC, Ohai had 11 goals and eight assists for 28 points, finishing second on the team behind Dunn, who had 34 points.
The family connection for Ohai to Houston was obvious to the many as soon as the Dash were announced.
"As soon as I took the job I knew it was what we were going to do," Dash coach Randy Waldrum said.
Houston Texans linebacker Brian Cushing, husband of Megan Ohai, was publicly supportive throughout the process of the Dash announcing the team and was excited to see his sister-in-law drafted to their home city.
Ohai recently moved up to the U.S. U-23 team following her 2012 U-20 World Cup triumph. Waldrum coached that U-23 team in 2013.
"It says so much about coach Waldrum," Ohai said. "I've had him for one camp with the Under-23s and he's an incredible coach. When I heard that he was going to the Houston Dash I thought, 'they are so lucky to have him.' I know it was hard for him to leave Notre Dame, because it's such an incredible program and they've done such great things. But I think it just shows his dedication to growing the sport in this country."
Dash coach Randy Waldrum will likely look to implement Ohai's speed and as a major part of the team from the get-go.
"We knew all along we were going to be taking her," he said. "She's got unbelievable pace; she can stretch defenses with her pace and get behind. She's shredded my Notre Dame teams a few times over the years. It's nice actually to get her on my team for a change."
……….
KHOU.com
Dash draft Ohai, sister-in-law of Brian Cushing
Credit:
by Daniel Gotera / KHOU 11 Sports
khou.com
Posted on January 17, 2014 at 4:45 PM
Updated Friday, Jan 17 at 5:07 PM
PHILADELPHIA – With the 2nd overall pick in the 2014 National Women's Soccer League Draft, the Houston Dash selected forward Kealia Ohai out of the University of North Carolina.
Ohai already has some Houston ties as she is the sister-in-law of Houston Texans star linebacker Brian Cushing.
"Getting drafted in the first round was amazing," Ohai said. "Coming to Houston, which is my favorite place in the world and being with my brother-in-law and my sister is incredible."
In addition to Ohai, the Dash also selected forward Rafaelle Souza, defender Marissa Diggs and midfielder Jordan Jackson in the club's first college draft and acquired midfielder Nikki Washington via trade.
"I am so excited about today's draft," Dash head coach Randy Waldrum said. "I couldn't have asked for things to fall into place so well. It was an amazing day for the Dash. Starting with the selection of Kealia Ohai, we got one of the nation's best forwards. She has great pace, is extremely athletic, and can really stretch defenses with her speed. She is a proven player at the U-20 and U-23 national team level, and will be a great addition to our team."
Ohai's sister Megan played soccer at USC. The two had been discussing the possibility of one day playing in Houston and luckily, everything worked out perfectly.
"We thought there was no way Chris (Canetti) would be able to get it done by this year because there was so much work to be done," Ohai said. "But then, he and Brian (Ching) were able to get it done and when I found out they had the second pick, then I was super excited."
Cushing, for one, is also excited to have another professional athlete in the family.
"Obviously we found out that one, they're having a team and two, they were drafting her, it was incredible," Cushing said. "We'll be at a lot of games and hopefully some of my teammates will be there. She will have a great impact on the city and we're excited to see it."
Ohai is also hoping the Texans tie works out in the teams favor.
"I think that's going to be a good thing for the Dash because hopefully with our connection with the Texans, we'll be able to get a lot of them to games and create a good fan base," Ohai said. "The NWSL is growing so much and I think if we could just get fans to the game, then I think they'll realize it's a really fun thing."
On Twitter, some of Cushing's teammates have already expressed their support, including defensive end J.J. Watt.
……….
Houston Chronicle
Dash use No. 2 pick on Kealia Ohai, sister-in-law of Brian Cushing
Kealia Ohai after winning the FIFA U-20 Women's World Cup in 2012. (Ian Walton/Getty Images)
Almost five years after her brother-in-law Brian Cushing was taken by the Texans with the No. 15 pick of the NFL draft, speedy University of North Carolina forward Kealia Ohai was selected by the Houston Dash with the second overall pick the National Women's Soccer League.
"We wanted to bring Kealia here since day one," Dynamo and Dash president Chris Canetti said. "I am glad that everything lined up perfectly for us to get her. She is an exciting player and will be a great asset to our organization and community."
Ohai's older sister Megan, who played soccer at USC, is married to Cushing.
The former U.S. U-20 women's national team forward will give the Dash offense speed to spread opposing defenses.
"Very excited about Kealia!" Dash coach Randy Waldrum said in a text to the Houston Chronicle before the second round of the draft. "She's fast, athletic, can get behind defenses and can stretch the opponent! Will be a great addition."
………..
Top Drawer Soccer
Waldrum continues to build Dash at draft
Article Written by Travis Clark, ESNN
Published: January 17, 2014
PHILADELPHIA, Pa. — A year ago, the National Women's Soccer League was evolving into existence.
This time around, instead of an entire league being built from scratch, just one team is slowing but surely building towards the 2014 campaign: the Houston Dash.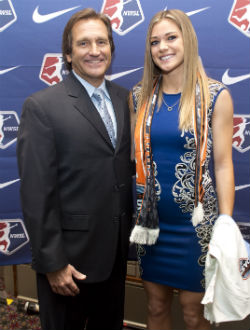 Waldrum with first round pick Ohai.
Former Notre Dame(w) head coach Randy Waldrum continued to add to his new side, selecting four players in Friday's draft, enjoying the process of a new challenge.
"I'm not watching 15 year old kids now and trying to see if I can convince them to come to my college," he said after the 2014 NWSL draft. "I built the program from scratch at Baylor, and building a college program's a little bit different than building a pro club, but it's been exciting, been a lot of fun."
Of the four players the Dash selected from different colleges, there was a clear emphasis on adding attacking pieces. It started with North Carolina(w) star Kealia Ohai with the second overall pick. Mississppi(w) forward Rafaelle Souza came next with at No. 10, then the Dash traded up to the eleventh pick and took UCF(w) center back Marissa Diggs.
The day wrapped up for the Houston franchise with the selection of Nebraska(w) attacker Jordan Jackson at No. 28.
Ohai, the club's first ever college draft pick, was pleased to be reunited with Waldrum.
"I've had him for one camp with the U23s, and he's such an incredible coach," she said. "When I heard he was going to the Houston Dash, I thought that they're so lucky to have him. I know it was hard for him to leave Notre Dame because it's such an incredible program, and he's done such amazing things there. But I think it just shows his dedication to growing the sport in this country."
Sharing the North Carolina(w) star's enthusiasm for Waldrum's addition to the league was NWSL Executive Director Cheryl Bailey.
"It's great to have somebody of the caliber of Randy to come into the league. No doubt his pedigree and what he's done at Notre Dame and the other stops along the way in college really is great for the league. I think he's going to bring a great deal into this league to be able to bring that forward."
From his new team's perspective, Waldrum was unsurprisingly pleased with the draft-day haul.
"We're extremely excited, and then to have Jordan Jackson fall into our laps here at the end I think that's a steal," he said. "I think she's a fantastic player, I had her with the 23s also and she can play anywhere on the field. For a new expansion franchise you need players with that kind of versatility so I couldn't be happier with this day."
The addition of four players continues the team building process, as the Dash prepare for the opening weekend of the season – reported to be the weekend of April 12.
And Waldrum is eagerly awaiting the team's opening day, as the enthusiasm continues to build towards the team's first game.
"It's been off the charts," he said of the area's excitement for the Dash. "I think the first day I got there I picked up 1,500 followers on Twitter as soon as I took the job," he said. "The market's been buzzing, I think we've sold over 2,000 season tickets and we haven't really started our push for the tickets. It's going crazy down there about it."